Last Updated on
Have you ever worried about the future and getting old? This guy Heinz Werner Bongard proves that getting old isn't so bad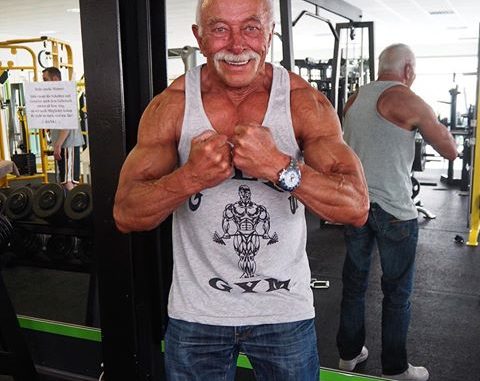 Meet the 74-year-old Heinz Werner Bongard, who despite his age is still in great shape. Heinz took a great interest in bodybuilding in the 1960s while serving in the army.
He achieved certain successes, which allowed him to perform at national championships of the country. In the 80's and 90's Heinz again began to speak. In 2005, he won first place in the 60+ category at the championship in Duisburg. Heinz worked as a driver for many years, he raised two daughters, and after retirement he did not start training.
His current competitive weight is 72 kg with a height of 174 cm. Two documentaries were shot about him and his hall, which brought fame to the elderly bodybuilder.
Born in 1944, in his youth engaged in wrestling and boxing, while serving in the army in the 60's began to engage in weightlifting. Soon I tried my strength in bodybuilding, relatively quickly began to successfully perform in the German championships among amateurs.
In the second half of the 80's and in the 90's not only competes in competitions in the age category for 40+ and 50+, but is present among judges.
Probably Werner achieved the greatest success in 2005, taking first place in the 60+ category in Duisburg. In 2016, at the age of 72, he won the German bench press championship with a score of 95kg. Werner and his gym have filmed two documentaries with a private TV channel (RTL).
By education, a baker, before retiring, worked as a driver in a large company.